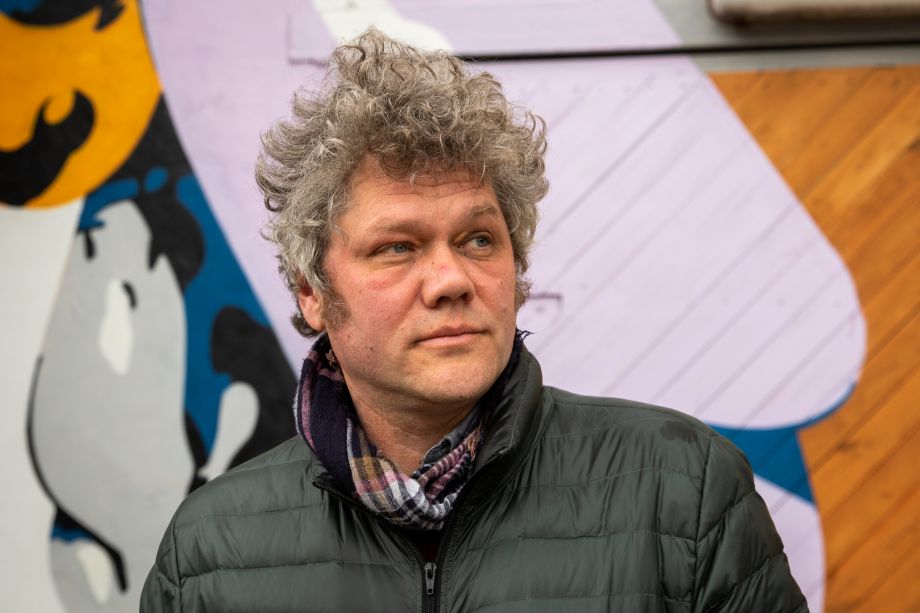 Ukrainian writers – defying the Russian invasion 
As the Russian attack on Ukraine wreaks destruction and creates millions of refugees, many of Ukraine's writers have found themselves turning to activism by joining volunteer groups, the Armed Forces or by engaging in the "information war" against Moscow. For some, this is unchartered territory, while others have for years tried to change both Ukraine and Russia from within. The Swedish journalist Joakim Medin met with authors Sofia Cheliak and Oleksiy Nikitin in Kyiv for an interview.
Joakim Medin, born in 1984 in Mölndal, is a journalist and author. He writes mostly about politics, democracy issues and human rights. He has published four books. His fifth book "Amanda - My daughter's journey to IS" that he wrote together with Patricio Galvez will be published summer 2022. Medin is a member of Swedish PEN.
In the early morning of February 24, Sofia Cheliak was abruptly woken from her sleep by an aunt who was staying in her apartment in the city of Lviv, Western Ukraine. Get up, it's an air alarm, her aunt was yelling. Sofia Cheliak could hear the siren, and got angry. Her first thought was to complain to the municipal government about running the alarm system at seven in the morning.
– But after a minute I realised that this was because a full-scale war had started. It was quite a surprise and a chock. But on the other hand, the war had already been going on for eight years at that point.
Sofia Cheliak is a member of PEN Ukraine and an award-winning Czech-Ukrainian translator. She currently holds a position at the Ukrainian Book Institute, and since 2016 she has also been the Program Director of the Lviv International Book Forum, previously known as the Lviv International Literature Festival.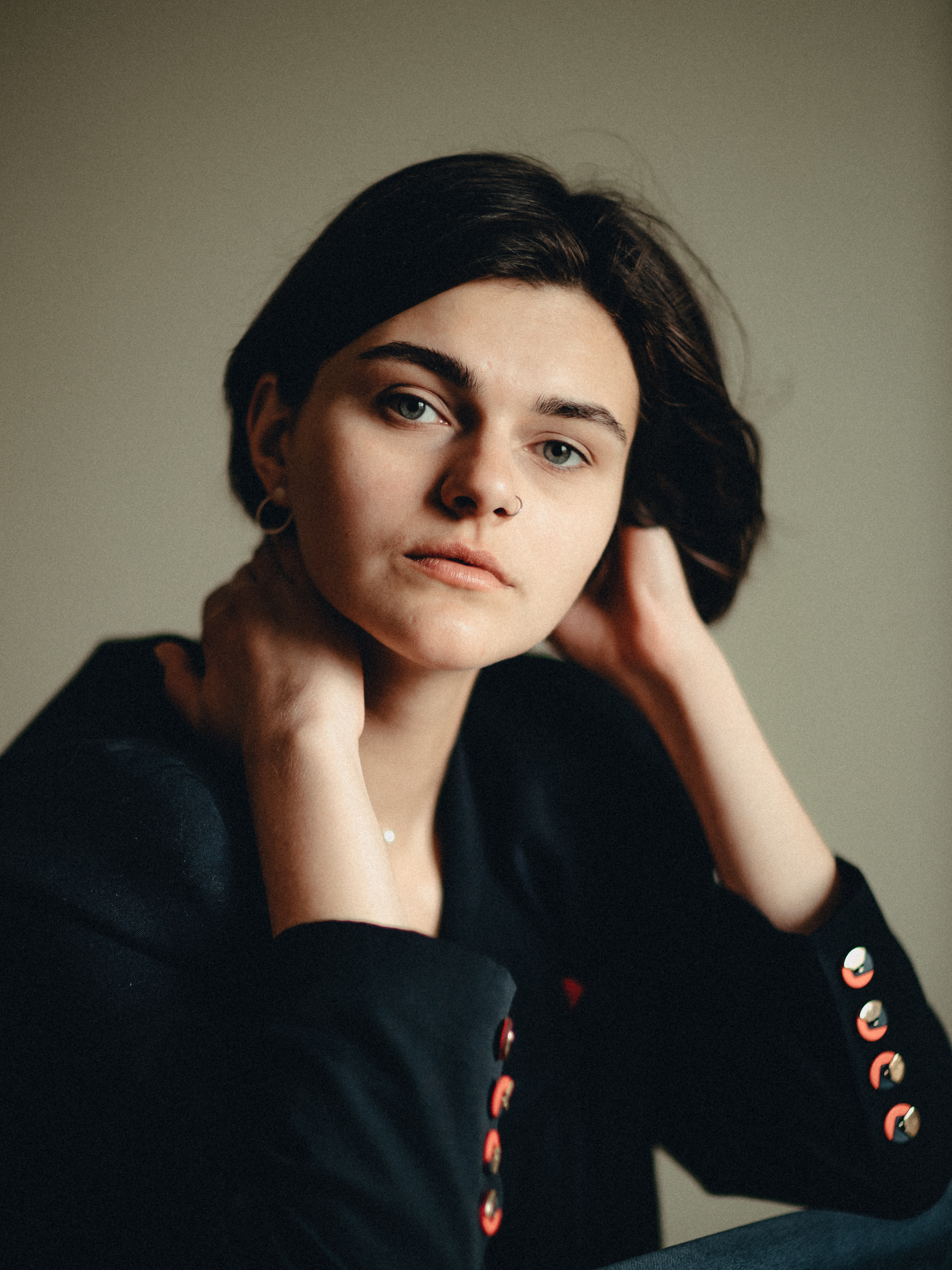 During the first three weeks of the Russian attack on Ukraine, she joined a large group of colleagues in the field of culture who started volunteering and helping people who were evacuating from the hotspots of the war. Lviv, where Sofia Cheliak has been living for years, rapidly turned into the main destination for hundreds of thousands of displaced Ukrainians, many of whom wanted to continue into Poland and beyond.
– After a few weeks I started to work on promoting Ukrainian literature abroad. I'm also assisting the Ukrainian army by transporting materials from Lviv to Kyiv, and to eastern and southern Ukraine, Sofia Cheliak says.
She is one of many Ukrainian writers and professionals that are turning to activism in order to help victims of the Russian war against Ukraine – and to fight the aggressor itself. Sofia Cheliak is still finding it hard to accept that her country is fully engulfed in a war. Searching for words to match her feelings, she settles on very angry.
– We can see all the massacres, the rapes... All I can feel is anger and I want to help my country finally be free. I know what the Soviet Union was doing against the Ukrainians in the past, about the mass arrests and executions. I know about Holodomor, the Great Famine. It feels like all of this is still continuing and that we have to stop it.
From the moment Ukraine was smothered by war by the end of February, a great number of Ukrainian writers, as well as filmmakers, artists, cultural managers and many others, have volunteered to assist their country. Some have joined the Armed Forces and others the Territorial Defense Forces. Some have done so publicly, while others refrain from speaking about it, so as not to warrant unnecessary attention.
In Ukraine's second largest city, Kharkiv, a well-known writer is gathering humanitarian aid for the local population. In the city of Vinnytsia, the writer and translator Kateryna Kalytko, who won the Joseph Conrad Literature Prize in 2017, is collecting money and buying bulletproof vests for the Ukrainian Armed Forces.
– Another writer in Lviv, Kateryna Mikhalitsyna, has become the new announcement voice at the railway station. The normal train schedules have not been working and she has been the one making announcements about trains coming from hotspots, Sofia Cheliak says.
Other Ukrainian writers, herself included, have joined what she calls the "information war". Those with language skills have, for example, volunteered to translate public statements. Sofia Cheliak is also working as a TV host for a Ukrainian broadcasting company, interviewing opinion makers and public intellectuals of Ukraine with the aim of summing up 30 years of Ukrainian independence. The goal is to make Ukrainians understand how they have developed as a country since being subject to what many refer to as Russian colonialism, in the Soviet era.
Apart from feelings of solidarity, one reason many Ukrainian writers have turned to activism is the fact that they initially found it hard to use the tool they usually work with: their pen.
– After the war started, even the most productive writers had literally no words. Some understood that they should contribute to the international coverage, so they gave interviews. But for the majority it was really challenging to write – even in Ukrainian – because it was such a shock, Sofia Cheliak says.
Gradually, however, writers have begun to adapt to the situation and live again. Sofia Cheliak knows of several writers who have launched book projects to describe the new reality of the war.
Other writers are speaking about the situation in Ukraine at international book fairs – also a form of activism. The Ukrainian Book Institute is currently organising several Ukrainian stands at book fairs in Paris, Warsaw and Prague, and has already hosted stands at the book fairs in Bologna and London earlier this year.
One issue discussed at these events has been how to handle contemporary Russian writers and literature. Lately, many Ukrainians in the literary field are of the opinion that their Russian counterparts should be blocked from international festivals.
– A lot of people in Europe are against this, they are saying that we should fight Putin and not Pushkin. Until February 24 I was able to say the same thing, but after all of this happened… Of course there are oppositional Russian writers, but their position about Ukraine can still be questionable. Some still say Crimea should be a part of Russia, Sofia Cheliak says.
The activism of Ukrainian writers is not limited to the country's borders. According to Sofia Cheliak, many writers who share the sentiments described above feel pressured into engaging in dialogue with Russian writers - but they find this impossible at the moment.
– All of us are experiencing trauma, and we want accountability. Maybe we will be ready to speak with Russians after the war, and even help them build a democracy. But right now, this is really a closed question. And people who are inviting and paying them to speak at literary events are also financing the bombs being dropped onto Ukrainian cities, because every penny is taxed in Russia.
Another Ukrainian writer with strong opinions about Russia is the award-winning Oleksiy Nikitin. For the past decade he has published several books in Ukraine, which have been translated and sold also in the US, the UK, Italy and Switzerland. His first book, however, was published in the Soviet era in 1990 – in Moscow. The two works that followed were also published in Russia, all of them written in Russian.
– I'm writing in Russian because it's my mother tongue. In the past, Russian publishers were bigger than Ukrainian publishers, which is why my first books were published in Moscow. They have since been translated and published in Ukraine, says Oleksiy Nikitin.
He is not alone in this situation, as many other Ukrainian writers also began publishing in their neighbouring country, and later at home. In today's Ukraine, calls for a boycott of Russian literature at international book fairs is part of a larger debate about "cancelling" Russian culture overall. Oleksiy Nikitin is of the opinion that this should be a personal choice.
– Democratic writers try to share narratives about their ideas through culture, but in a way the Russian culture has been weaponised. I think this should be a personal decision, if you want to distance yourself from Russian culture.
Oleksiy Nikitin was born in Kyiv and has lived there his entire life. He is a member of PEN Ukraine, is working as a journalist and has been the editor of several Ukrainian magazines. By profession, he is a physicist and in the mid-1990's he worked with an emergency dust suppression system at the Chernobyl Nuclear Power Plant in Ukraine.
– It was very interesting, because it was kind of a museum of Soviet life. All of the old banners were still there, he says.
When Ukrainian media reported in February 2022 that Russian forces had begun building an army base in the forest next to Chernobyl, Oleksiy Nikitin could hardly believe it. But then he saw the drone photos. The soldiers were massing at one of the most dangerous places in the region.
This made two things apparent. First, the Russian soldiers had clearly not seen the popular "Chernobyl" TV series on HBO. And second, the soldiers had not studied enough Soviet history, and certainly not Ukrainian. If they had, they would have known better.
The latter is precisely what Oleksiy Nikitin has wanted to change with his writing. He has been pursuing this kind of activism for years, with the stated aim of educating the younger generation about the past - trying to change Russia from within.
– I am pro-Ukrainian and have always wanted to show the truth about Ukraine, by writing about Kyiv and Ukrainian life. I have had an idealistic dream about my books changing something in the Russian mindset.
One of his books is about Kyiv in the 1980's. Another book is about a Jewish-Ukrainian family, the Holocaust, partisans, the Soviet secret service and life in German-occupied Ukraine during WWII.
Oleksiy Nikitin's last book in Russia was about Euromaidan, the historical pro-Western uprising that took place mainly in Kyiv between November 2013 and February 2014. He wanted to tell the story about how and why ordinary people joined the uprising, which opposed the government's Russia-friendly policy.
– But after that book, I realised that nothing can be changed in Russia. There were no professional reviews of my book, only some private reviews by readers who were very angry and said it was all fake.
In 2014 Oleksiy Nikitin won the Russian Prize, awarded to extraordinary works written in Russian by writers living abroad. Now, his Euromaidan book was met with a mix of silence, anger and slander. He has not published anything in Russia since.
– I stopped being published in Russia in 2016. I don't have any contact with Russian publishers now, and I don't see how it would be possible to publish there in the future. Even if it might be even more important that Russians read my books now.
Considering how the war has affected him since February 2022, he thinks it will be difficult for Ukrainian writers to pursue activism through their pen. Writers tend to need a lot of time for reflection, and that has proven difficult for himself and several of his colleagues.
– But writers can still produce non-fiction articles on facts and emotions. I have answered international requests to comment on what is happening now in Ukraine and assisted with distributing food and medical supplies to elderly people in my district of Kyiv.
Oleksiy Nikitin plans to stay in the Ukrainian capital, and when there is space for reflection, begin writing a new book about the tense pre-war period. The calm before the storm, in literary speech. He has refused offers from PEN Ukraine to be evacuated, and also refused financial aid.
– I will leave Kyiv only if Russia manages to occupy the city. Because that would mean the end of free culture here.