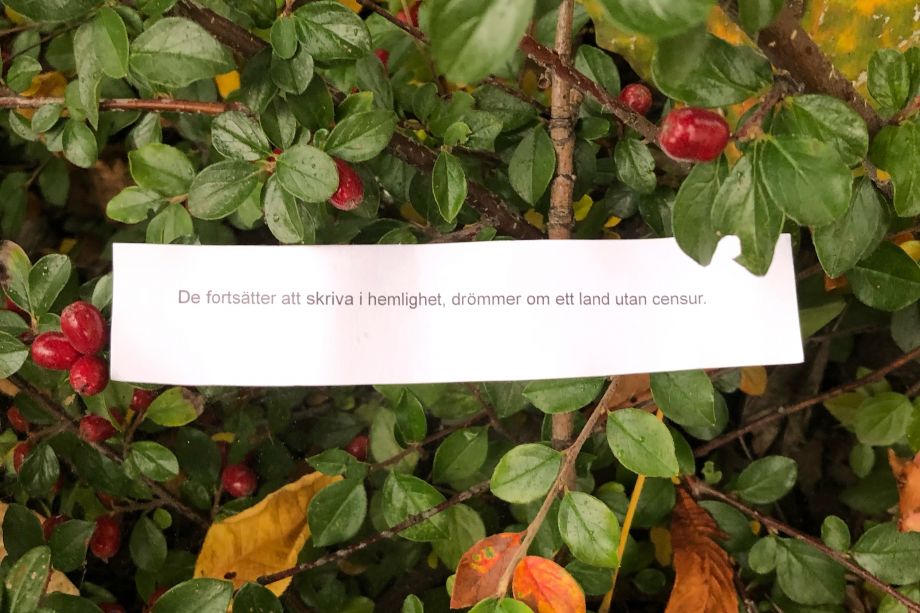 An Echo
Students studying the writing programme at the Fryshuset Upper Secondary School in Stockholm have collectively written poetry in answer to voices in the issue "Exploded Hearts of the Arab Spring" (PEN/Opp 2021).
Listen to this echo that bounces around the world between us who have such different living conditions, lives, and languages, but who share a heartfelt urge to write.
Annika Heurgren, teacher.
1
Everyone writes at some point in life
Everyone writes their thoughts, their musings on life
Everyone writes on stone
Everyone writes as if writing is all that is left
Everyone writes what they think
Some write on paper
Some have the right to write
Some write texts that cannot be published, that they hide in a drawer
Some write whole worlds they visualize in their heads
A few write about stone
A few write in the dusk, by closed windows
A few write about the loss of words
A few write texts that are published and loved around the world
A few are imprisoned
A few write quite engagingly really
Others talk about their texts
Others write about paper
Others write to honour someone
Others do not write at all. Perhaps it doesn't interest them, what do I know…
Others write poorly
Nobody writes about mountains
Nobody writes about censorship—at least no one who has been published
Nobody talks about their own censorship
Nobody writes perfectly
They write about businesses
They write because they still believe in, and still hope for, change
They continue to write in secret, dreaming of a country without censorship
They hide the words of others as if they had the right
They have stopped writing since no one will listen to their thoughts
They write something well I would think
Just about any old 'schmuck' can do it honestly
We write about ourselves and others, but give the characters made up names
We write about people
We write what we wish we could find in a book
We hope the future will be different, that it will become a safe place for all writers
We write something I believe in
2
Censored poets
Poets with crushed dreams
and hidden poems
silenced by threat and violence
they want to be free, but the universe has abandoned them.
Killed
Locked in with thieves and killers
A cellar with spiders and crawlies
where their pens have been confiscated
immersed into graves of concrete and grids
over the deep blue ocean
and under starless skies
where no one can hear their cries
or see their tears.
But their hope will never be quenched
In their souls the flame of freedom flutters on
Knockings, busted doors
broken windows and exploding lamps
The power of words is no different
The words of a poem are my family
and my hope for absolute freedom
As voice or a deed reveal
what has not yet been uttered
is what we will shout into the emptiness
the total emptiness
where no one listens or can see
Emptiness is the space where I feel free
the place where right is like wrong
In the darkness by my desk
in the darkness of my soul