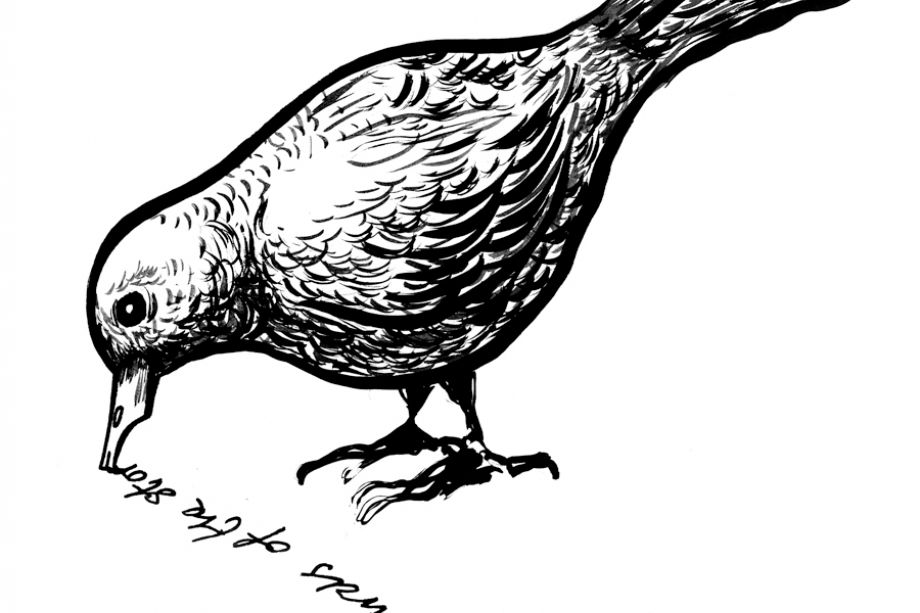 The ICORN-Relay – Anisur Rahman
There are currently 35 sanctuary writers throughout the world who have been forced to leave their countries because of persecution and harassment. We give some of them the opportunity to have their say in PEN/Opp; we call it "the ICORN-relay". First in line is the writer Anisur Rahman in Uppsala, Sweden.
Poet in Residency
One cannot find poets in residency in schools, libraries and literary seating
They phrase the cheers and long-drawn sigh in life and
They live in prisons, fields, factories, streets, markets and labour colonies
Poets are Vasco da Gama and Columbus where there is life even in nook and corner
If any one of you ask about me in Uppsala
You will know, this is the poet in residency in Uppsala
I must say: Anisur Rahman is not poet at all
Just an image of a bird in the storm
The bird finds its shelter in the palace at stormy night
The bird waits just for dawn, afterwards of the storm …
The solitude had gone on long enough. Had gone on ever since I arrived, aged fifteen, at a residential higher secondary school in Madaripur district in Bangladesh, selected by my innocent guardians and suitable for the continuation of my studies, as they thought my life in the other place might be spoiled because they found me too outspoken earlier. The school was non-political and more than two hundred kilometres away from my parental home in Madhupur in the district of Tangail. I became a school hostel dweller. Their ambition was to detach me from all political and cultural contacts and thus get me to pay more attention to studies. That was for more than two years from 1993 till 1996 and the beginning of my feeling an exile. They found a safe school as a safe haven for the smooth continuation of my studies.
In 1996 I gained admission to the University of Dhaka, the prime university in Bangladesh and had accommodation as a resident student at a university dormitory called Zahurul Haque Hall. Students at the university as well as at the residential halls had no freedom and security at that time. The situation has not improved that much even today. Political cadres from ruling parties used to harass and threaten genuine students. Those terrors usually did not belong to any particular political party, but belonged mostly to the ruling party and to an Islamist fundamentalist group called Islami Chhatra Shibir who have strong positions at universities in Dhaka, Jahangirnagar, Chittagong, Rajshahi, Kushtia and Sylhet. They just change their slogan whenever a new government is sworn in. They are usually not students at the university, but they have every access to university administration, in particular to residential hall administration. They can take food from the hall canteen without paying. It seemed as if they owned everything. Students were sometimes bound to accept their wrongdoings. If anyone disobeyed their whim, he might be victimized. As a progressive individual I too had a very difficult time. Despite the fact that I was a budding poet and full-time journalist for an English daily, The Independent, I was harassed, threatened and even evicted from my accommodation several times, notably in 1999 and 2001. I got some compensation, however, from the Vice Chancellor's office in 2001 as the then Vice Chancellor Professor Anwarullah Chowdhury favoured me in that difficult situation.
The right-wing nationalist-Islamist fundamentalist Jamaat-BNP coalition won the parliamentary elections in 2001. The semi-secular (not that much secular but better than BNP-Jamaat) Awami League, the largest political party in Bangladesh, lost the elections. Ruling party cadres harassed, tortured and abused other-minded people, particularly Hindu and ethnic minority communities across the country. They raped many women in the aftermath of the 2001-elections. During the Jamaat-BNP regime 2001–2006, Islamist terrorist groups by various names had a deep-rooted position, being patronized by the authorities. On the other hand, the government introduced a notorious law enabling agencies called Rapid Action Battalion-RAB to harass activists of opposition parties in 2004. Officially it is a branch of the Bangladesh Police Department. Personnel from the Police, Military, Navy, Air Force are appointed as deputies to work with this black force. The RAB has legal immunity to kill anyone in the name of so-called 'crossfire' encounter shootings. Even after killing a Bangladesh citizen, RAB personnel will remain free from any charge. Having this immunity, RAB personnel have killed nearly a thousand citizens and victimized some thousand families. When RAB was introduced in 2004, the current prime minister Sheikh Hasina, was the leader of the opposition. Hasina opposed the initiative. It is an irony today that her government advocates in favour of this killing force and to strengthen it. That is not all. RAB personnel were trained in the United Kingdom. The United States appreciated the introduction of RAB and suggested empowering it as a model for the FBI (Federal Bureau of Intelligence).
In 2006, there was political chaos between the progressive left-centred alliance led by Bangladesh Awami League and the Jamaat-BNP right-centered nationalist fundamentalist coalition. The time had come for Jamaat-BNP to quit and to offer a new election. But they were making a ploy, in particular by having fake names in the voters' list just to ensure their victory in the parliamentary elections scheduled in 2006. The progressive alliance opposed such a move and agitated on the streets. During this chaotic situation, and with support from Western diplomats, a military-controlled non-elected cabinet was formed and the constitution was suspended. The authorities declared an emergency. Citizens lost all their rights to freedom of expression. This situation continued until 2008 December. Many citizens, community leaders, writers, journalists and citizens were harassed, tortured, abused and victimized. Some were general targets of the military regime and some were individual targets. Such an evil situation continues even today. Let me give you two examples:
a. Army officials killed Garo ethnic-minority community leader Cholesh Richil in Madhupur on March 18, 2007. No case has yet been filed even after four years of the killing! The government must court-martial the killers and the policemen responsible for the killing of the ethnic leader from the town of my birth, Madhupur. I demand the killers be punished.
b. In March 2011, Limon Hossain, a higher secondary school student, was shot and maimed by the RAB. Limon was arrested and his family is in hiding today because of threats from the RAB. What kind of democracy is that!
The left-centred alliance won the elections in December 2008. There was high expectation that they would ensure freedom of expression, dismiss the RAB, reduce corruption and discrimination at all levels. By law, Bangladesh protects the right to freedom of expression. But in practice there are thousands of problems. The problems have been intensified in many quarters, particularly by leaders of terror gangs 'god-fathers', Islamist fundamentalists, corrupt police, military, in particular the RAB, political cadres, corrupt newspaper owners and immoral editors. According to a report published in a Dhaka-based newspaper, The Daily Star, some sixteen journalists have been killed in Bangladesh since 1998, making the country one of the most dangerous for journalists … Some were killed for investigating or exposing illegal activities, while others died at the hands of the security apparatus, in particular the infamous RAB. A total of 33 journalists were assaulted in a total of 18 incidents across the country from January to March 2008. Many are in exile in different countries. Certainly, the government claims to protect the right to freedom of expression. But, when one's life is not safe, the RAB can kill anyone, the police can file cases against anyone at any time, government officials can file cases against an editor, the police can arrest an editor without an arrest warrant and close down the newspaper office or a television channel, I must say, 'this is not a sign of press freedom or democracy', this is something else that must not be allowed to continue.
Today, Bangladesh, in a dramatic U-turn from secularism, is adopting Islam as the state religion and allowing religion-based political parties to function. Prime Minister Sheikh Hasina recently came out in favour of retaining Islam as the state religion, moving away from the secular provisions in the constitution that were incorporated when the country gained independence in 1971.
Bangladesh is a Muslim majority country with a population of 150 million. Hindus account for 9 percent of the population, with the rest being Buddhists, Christians and ethnic minority communities—most of them do not practise any conventional religion. It should be noted that the worst political genocide bled the nation when India and Pakistan were partitioned: Bengal was divided as East Bengal (today's Bangladesh) merged with Pakistan, and West Bengal with India, in 1947 at the end of British colonial era, triggering mass migration of Hindus to neighbouring India and Muslims into Pakistan.
The ruling Awami League, since its foundation in 1949, and which Hasina now leads, has been a champion of secular politics for more than a half century. Hasina's father, Sheikh Mujibur Rahman, the country's Founding President, enshrined secularism in the constitution adopted in 1972. Hasina's decision is tantamount to defiance of the highest Court's landmark judgment in July 2010. The Court required the government to restore the principles of secularism in the constitution. Defying the court instruction, the government is guaranteeing religion-based communal politics. Taking a departure from the 1972 constitution, the Arabic phrase 'Bismillahir Rahmanir Rahim' ('In the name of Allah, the Most Merciful, the Most Compassionate') will remain above the preamble of the constitution. This was contrary to the election manifesto of the ruling party Awami League in 2008 in which they stated their position for regaining a secular-welfare Bangladesh. This is a suicidal attempt that must not happen. It will shut the door to all possibilities to reinstate Bangladesh as a secular state.
When I dream of a welfare-state Bangladesh, I see how alien it is to the political thoughts in the minds of ruling elites. I find many unpleasant things happening. Many clouds are moving around the sun in my land. Today - it is less then three years - I am away from my home, I feel that once upon a life, I was in Bangladesh. Despite such a feeling in my mind, I would hope to breathe the last in my sweet homeland.
ICORN
The International Cities of Refuge Network is an association of cities around the world dedicated to the value of Freedom of Expression. Writers have consistently been targets of politically motivated threats and persecution, and the network believes it is necessary for the international community to formulate and implement an appropriate response. Each ICORN city focuses on one writer at a time, each writer representing the countless others in hiding, in prison or silenced forever.