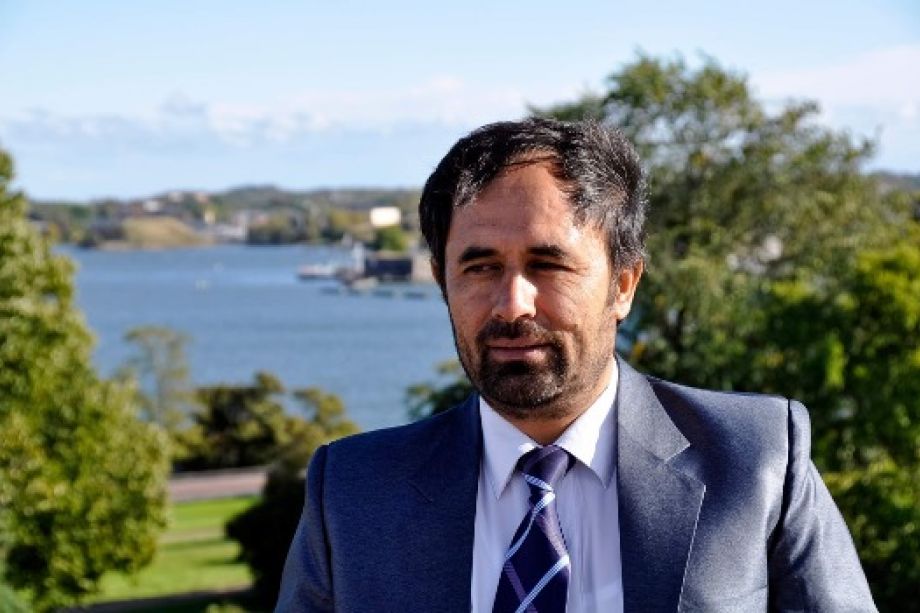 Let's Not Forget Educating Our Children
Aziz Royesh, renowned teacher in Afghanistan, born in 1969 in Kabul. He founded the Marifat School in Kabul. In 2015, he was one of ten nominees for the International "Teacher of the Year Award" by the "Varkey GEMS Foundation" and won second place.
He has also worked as a journalist and written two books. In this article, Aziz Royesh writes about his own experiences and how the Afghan education system has been affected since the Taliban regime.
In the spring of 2002, we decided to start our educational programs at Marefat School in Kabul. Kabul was then a clear image of a post-apocalyptic city. It was rare to find a tree or wall in the city that was not one meter high with traces of war and deeply affected by the hit of bullets or the wounds of explosions. And so were the people roaming around Kabul— carrying their tired bodies like some wandering spirits coming out of a period of terror.
In the spring of 2002, with a simple calculation, more than 90% to 95% of the population were illiterate. The remaining 5% often got their basic education at the mosques or other religious schools. As for Hazaras living in the west of Kabul, the gates of modern schools were opening in the years following the communist regime despite the devastation of the war and immeasurable insecurity. Before that, Hazaras were banned from entering the field of education, especially higher education, by official command of the political system. And a great number of its educated people were banned from active participation in the field of public life on charges of blasphemy and atheism.
In the spring of 2002, when we wanted to start Marefat educational programs in Barchi Barchi, a relatively poor town in the west of Kabul, recruiting students to attend classes was a major challenge. For most people, the idea of ​​education, especially education for girls, at their own cost, was incomprehensible. Marefat educators were, nevertheless, determined to encourage families to send their children to school using simple ways to talk to them: "Your children's stomachs need as much food as their brains … You have at least one loaf of bread that you can split between your children's brain and stomach…Learning is what you need…The government might not be able to help them…even if they do, it will be too late…"
With time, the gates of Marefat (Knowledge) opened to the first group of students, about 30 to 37 male and female students, at different ages, sat next to one another in mixed classes to study the alphabet as well as learning other subjects such as civic education, anthropology, human rights, and democracy.
Marefat was the only private school in Afghanistan that operated with a civic education approach for nearly five years. The school had not yet been officially registered with the Ministry of Education. Mixed educational space for girls and boys was a major obstacle for an official registration, which eventually ended with a definitive order from the Ministry of Education, "either you separate girls' and boys' classes, or give up school registration'… We did the former, to keep Marefat operating.
By 2021, a total of seventeen classes, including more than 1,800 male and female students, had graduated with a Marefat high school degree. Among them, more than 290 students received scholarships to continue their education and ended up in good universities all over the world doing their bachelor's and master's degrees. More than a hundred of these students were accepted to various universities in the United States and other European countries. Each year, more than 3,200 students, about half of them girls, took part in teaching high school and other Marefat literacy classes.
By 2021, there were more than 163 private schools in the 6th, 13th and 18th districts of western Kabul alone, which were mainly considered major populated Hazara areas, with official registration in the Ministry of Education. According to official statistics, more than eight million children across the country attended school and university, and hundreds of thousands more were graduates from the university over the past 20 years and worked as academic and administrative staff in the governmental and non-governmental sectors.
Hundreds of thousands of those educated people took part in the "Tabasoom Movement" on the 11th of November 2015 and the "Enlightenment Movement" on the 16th of May 2016. They were educated after the fall of the Taliban regime and had moved to become active members of the community. The number of participants in the "Tabasoom Movement" was estimated more than two hundred thousand and the number of participants in the "Enlightenment Movement" was more than one million.
With a slight difference in statistics, this figure showed the profound impacts of education on the cultural aspect of society. Similarly, the tactics of exclusion and extermination that were used to suppress the Hazara community of Afghanistan, which was completely under the influence of religious forces before the fall of the Taliban regime, in the years close to 2021, the were fewer sign of exclusion or dissent or opposition to education and civic and democratic values ​​that were seen in the behaviour of its religious and political leaders and pioneers.
With the advent of the Taliban, the process of educating in the country has become one of the most challenging areas of collective living. For many Afghans, at least for ethnic and religious minorities and women, education was not the only way to get a job and a livelihood, but most importantly, it was a way of escape and deliverance from despair, hopelessness, and humiliation. For millions of Afghans to keep this path open is as important as their food, clothing, and shelter. If this path is closed to them, these people will have no way back to the good past, but to experience yet another state of stagnation and recession. Life will ambush them which will have unimaginably catastrophic and painful outcomes.
Young girls, who cannot go to school anymore, will either face family pressure for early and forced marriages or, if they resist, they will be taken by mafia groups and other human traffickers, ending up facing hundreds of other dangerous snares. In the same manner, the closure of schools and the discontinuation of education will make hundreds of thousands of other people, who are among the active and useful forces of society, become unemployed and useless, who will once again widen the field of disaster.
In the current Taliban regime, education will not be completely discontinued but religious schools will have more welcoming spaces than that modern schools. The Taliban, for sure, will also deform the content of education in modern schools with a backward ideology and will educate the next generation alien to the principles and values ​​of civic life. Education with a civic perspective and value is an effective response to all kinds of dogma, bigotry, extremism, and any aggressive belief system and behaviours. When education lacks this content, a generation of violent, aggressive, dogmatic, and inflexible manners will be raised. They will be harmful to the whole of human society, and their civil achievements are irreparable.
Time is always moving away from our will and desire. We can only be sure of the passage of time when we create a suitable environment for a dignified and valuable life through modern education with a civic approach. It always takes a lot more time to implement the right education and instil civic life principles and values in a society. While the forces with anti-civic and backward manners do not need much time to destroy the intellectual flow of society and disrupt the structures of civil and modern life. It will take them five years of opportunity and freedom to destroy the fruits of tens of years of human effort and movement.
It is much more hopeful if today we reach out to the millions of Afghan children so that all of them, as our important friends and companions, contribute to building a better and more secure future. Otherwise, it will be much more costly if we forget them and confront their negative and destructive forces tomorrow. We will encounter much heavier costs that way.