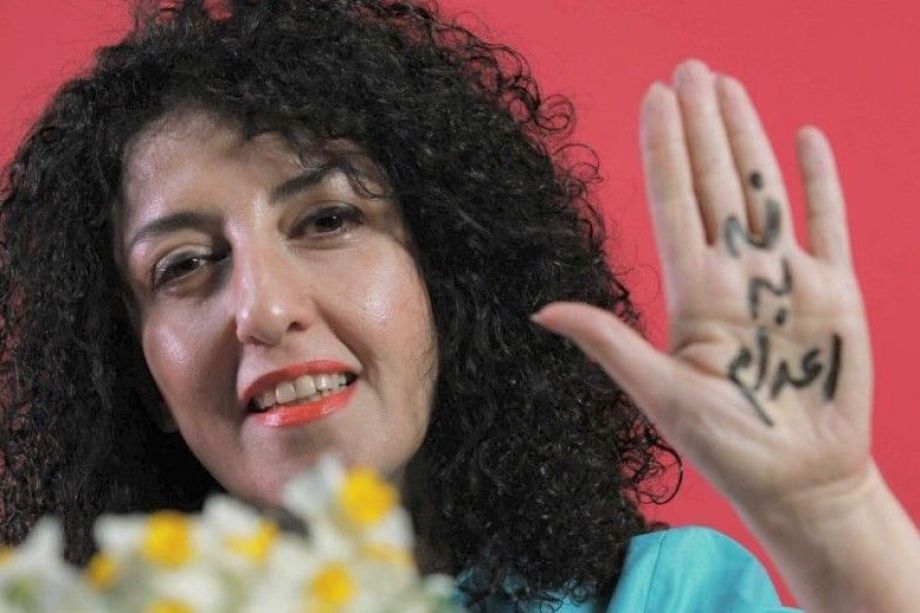 Narges Mohammadi is an Iranian writer, journalist and human rights defender. She fights for women's rights, freedom of expression and against the death penalty in Iran. She has been prosecuted and imprisoned multiple times and is now in Evin Prison in Tehran. Following her activism from within prison she frequently faces new charges. The following letter was written by Mohammadi from Evin Prison in august 2023.
By witnessing the intensity of the horrifying and shocking 'physical violence' against protesting 'women' by the government, and expressing concern to the global community, I urge everyone to prevent the escalation and continuation of blatant violence by the government against 'women' in Iran.
In recent months, we have seen women and girls entering prison with bruised and damaged faces and bodies. With each entry of an injured woman, we have been shocked and concerned, visiting the prison administration and expressing our worries. However, the 'physical violence' against women has reached such an extreme that mere reporting and protest do not suffice.
Over three months ago, we witnessed the entry of a woman around 70 years old who had been so severely beaten during her nighttime arrest that the blackness around her eyes, the bruises on her face and body, lasted for 25 days after her release on bail. She had received terrifying blows to her head area, raising concerns about head injuries.
At the same time, a 20-year-old girl entered prison who had complained of toothache for a long time. She had been beaten and mistreated by male officers during her nighttime arrest on the street. The medical staff at Evin Hospital confirmed injuries in her tooth area.
A month ago, another girl entered prison with swollen and injured cheeks. Her arms and hands were covered in bruises. The prison doctor stated that her cheekbone had been fractured, and her hair was forcibly removed. She would cry out while eating due to the pain. An officer had struck her on the face, and another officer had pressed her jaws with his hands, causing her discomfort in chewing.
A few weeks ago, a girl entered prison with bruised ankles, shoulders, and hands. People around her showed her bruises. She had been subjected to severe beating, continuously saying she thought her leg was broken.
Another woman arrived. My first question, as usual, was whether she had been brought from home or the solitary cell? She replied that she was once somewhere where male officers hit her abdomen with batons and kicked her, threatening her. There were no cameras even though it was a cell. Afterward, she was transferred to the Ministry of Intelligence, and then here. She was transferred to Evin's Ward 209 a few days later for interrogation.
While for various political-security reasons, only a very limited number of detainees are transferred to Evin Women's Prison, we have witnessed cases of severe beating and injury over the past three months. Unnamed detainees, due to being pursued, tried, and threatened, do not publicize the violent and physical confrontations, and families also refrain from sharing such stories. They are exposed to 'physical attacks' of security forces.
As a witness to the acts of horrifying and lethal 'physical violence' by the government against protesting women, I declare that these levels of 'physical violence' within detention facilities and unlawful detention centers represent a systematic 'torture' to create 'intimidation' and 'terror,' capable of inflicting irreparable horrors. We have witnessed an increase in the severity of this violence over the past months.
I urge brave compatriots, international human rights organizations, women's associations and feminists worldwide, journalists and writers, including the UN Special Rapporteur on Human Rights, to prevent the escalation and continuation of the 'massive violence' by the Iranian government against protesting women. The government should know that escalating violence and suppression will not only fail to weaken the people's 'will' to transition from the despotic religious system but will also leave no option for the people but to continue their struggle.
Narges Mohammadi
Evin prison, August 2023