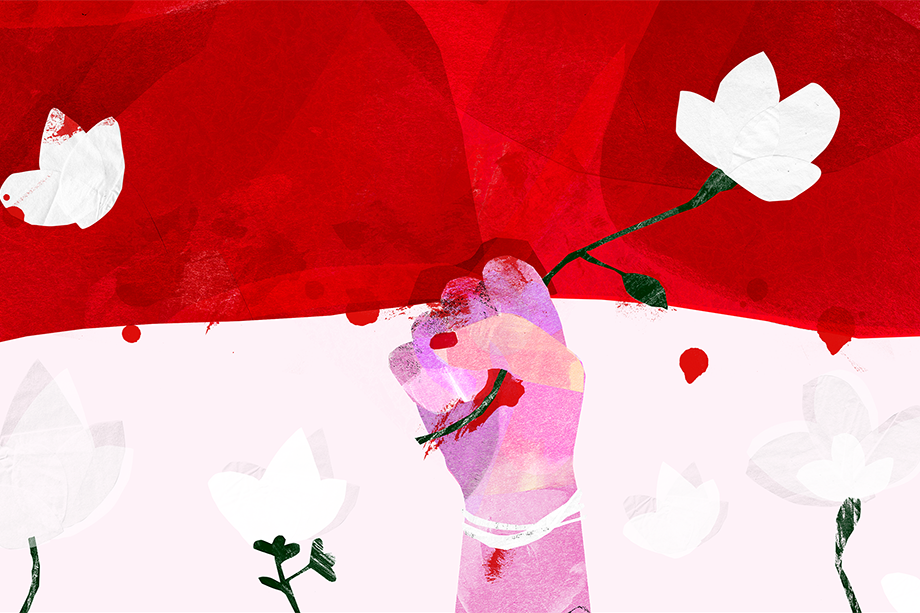 "Before this summer we didn't even know one another"
Since Aljaksandr Lukashenka's rigged election for president on august 9 in Belarus, nearly 30 000 people have been arrested, people from all social classes, from all walks of life, from teenagers to pensioners. Today, 132 political prisoners and at least twenty-three journalists are imprisoned. The protests have surprised everyone, including President Aljaksandr Lukashenka and the world at large, which has long been content to regard Belarus as a final, slightly diffuse remainder of the Soviet Union. Even many Belarusians with an oppositional attitude admit that they had not expected protests of this dimension and with such endurance—despite the fact that there were some signs during the unexpected presidential candidate Svjatlana Tsikhanouskaya's campaign in the summer.
Accumulated during Lukashenka's twenty-six years as a totalitarian ruler, the political resignation was widespread. But suddenly—almost literally overnight—the political lethargy was broken. Streets and back yards not only in Minsk, but all around the country, were filled—with what? With people in opposition, protesters, demonstrators? With even more than that: citizens. Fellow human beings. "I have fallen in love with my own people," as Svetlana Alexievich said a few weeks into the uprising. In this way, the country that was formerly called Europe's last dictatorship has risen from a suffocating anonymity.
Belarus is an independent country, Belarusian is an independent language, and the Belarusian people have been shaped by their specific historical experiences. But the rising we are witnessing is neither a matter of ethnicity or language but instead mobilises society in its entirety—crossing all social boundaries, educational differences, and languages. It is enacted in both Russian and Belarusian. The white and red flag does not symbolise any particular ethnically defined group above any other. It is a symbol of a civil society demanding respect from the state; of citizens insisting on their basic human rights; of a collective: people who have reached out to one another and taken to the streets. As stated on one of the placards at one of the populous demonstrations: "Before this summer we didn't even know one another."
The struggle currently taking place in Minsk does not only concern the future of Belarus, but in extension it concerns also the fate of Russia and Ukraine. They share the same political fault line. The quakes in Minsk are not a local concern but are triggered by major tectonic movements immediately connected to European politics. The deeply hopeful aspect of the Belarusian uprising is how it manifests political forms built on trust, non-violence, solidarity, and self-organisation. In this sense the poet Dmitry Strotsev's phrase is a fully sober description of what is at stake in Minsk: Belarusians are "healing the world."
This highly dignified uprising has triggered an impulse of solidarity beyond the borders of Belarus. Those of us who wield a pen manage our activism within the literary field—word by word we show our solidarity. To translate is the opposite of the mute violence. We have wanted to translate these witnesses and calls for help as quickly as sound travels over the water all those six hundred kilometers from Belarus to Sweden. The situation is acute. We must not let the ongoing assault continue in a vacuum. We who have created this issue represent not only ourselves but a whole network of literary activism, of translators, poets, and authors in Belarus, and in the surrounding world.
This issue of PEN/Opp is still in the making. We are continuously in contact with our colleagues in Minsk and with those who have been forced to leave the country. The issue begins with poetry by Dmitry Strotsev, who has tirelessly been writing from within the protests—at the end of October he was kidnapped outside of his home and sentenced to two weeks of imprisonment.
We also here publish a unique interview with Svetlana Alexievich. Alexievich was forced to leave Belarus at the end of September and is now in Berlin. On December 9 we publish the essay "Fascism as Memory" by Alherd Bacharevich and on December 16 poems by Hanna Komar, who was arrested at the beginning of September and sentenced to ten days in prison.
After PEN/Opp's Christmas break we have more special contributions in the form of essays and poetry by, for example, Uladzimir Lyankevich, Valzhyna Mort, and the former Swedish ambassador in Minsk Stefan Eriksson.
Alexievich's text is the transcription and translation of an exclusive live interview that came to end this year's Gothenburg Book Fair, in which she partook digitally from her home in Minsk. She was interviewed by Johan Öberg, former counsellor for cultural affairs at the Swedish Embassy in Moscow; the interview was arranged jointly by the Book Fair and Gothenburg University. Since Gothenburg in 2021 celebrates twenty-five years of being an ICORN sanctuary, the interview became the start of a broader collaboration between the Fair, the University, and other agents within the field of freedom of expression. In the interview Svetlana Alexievich says something highly thought-provoking: "we have not yet become conscious of ourselves together as a collective." She does not only speak of the Belarusians who are fighting for their right to have a free election, for the release of political prisoners, and for the end of state violence—no, she is talking about all of us. This issue of PEN/Opp is an attempt to help make us more aware of our common reference points.