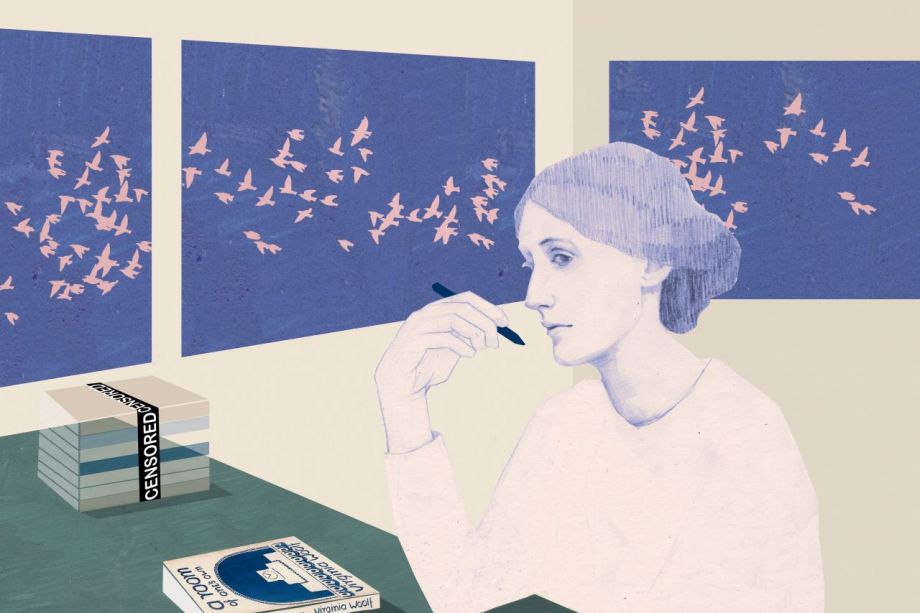 Gender-based censorship's various disguises
"But, you may say, we asked you to write about women and fiction—what has that got to do with a room of one's own?" So begins Virginia Woolf's timeless and classical essay A Room of One's Own (1929). Woolf's question has persisted at the back of my mind while compiling this issue on women writers conditions and experiences all around the world. In her essay Woolf uses the room as a metaphor, but also as a practical pre-condition for womens writing and shows why, throughout history, it has been so hard for women to find the right conditions in which to write and to subsequently reach success as writers. To be able to write freely there is a need of a physical room but also of a mental room. Woolf throws light on the fact that even in those cases where the physical conditions are conducive to writing, there may be inherent societal structures that make it almost impossible for a woman writer to be treated according to the same measures as a male writer.
Much has happened concerning the rights of women since the publication of A Room of One's Own, but the question in Woolf's essay is still alarmingly current. Even today there are novels, poetry, essays, articles and reportage that do not see the light of day since women are not allowed to write—or do not dare to write. Even if a woman's status in society in many places has risen radically since the writing of A Room of One's Own, many women in many parts of the world are still being silenced and censured mainly due to their sex—so-called gender-based censorship. In some places women may also be imprisoned or killed for their writings. In totalitarian states where women are seen as second-grade citizens and lack the same rights as men, a woman who writes and reads becomes a major threat—because words are an active deed and action makes a difference. On the Internet there is a meme in circulation that "women who read are dangerous". We can laugh at it in Sweden, but in certain countries it is a reality—a woman who both reads and writes is a major threat to the status quo in society.
One may argue that in a totalitarian state both men and women are the victims of censorship, threats, and harassment. Yes, of course. And this is one problematic aspect of gender-based censorship: it is hard to detect since it has often been subsumed under general censorship. But women are quieted not only by laws but also by mores, religion, and culture. Gender-based censorship tends to both be systematic and selective in its nature; both clear and implied in its utterances, and both deliberate and unintentional in its outcomes. It may be expressed in many forms, shapes, and voices. But in the final analysis—just like all other kinds of censorship—it controls, changes, hides, and silences a great part of our reality.
The idea to create a PEN International Women's Manifesto rose from this kind of reality description. It was initiated by the President of PEN International, Jennifer Clement, and was unanimously agreed upon at PEN's congress in Lviv in Ukraine. This was a historic moment in PEN's almost centennial history. The Manifesto contains six principles—non-violence, security, education, equality, access, and parity—and creates a global perspective on gender differences in the literary sphere.
The Manifesto has now celebrated its anniversary, and the daily work with the challenges and all the questions raised in it continues. This issue of PEN/Opp is part of that continuation. We have grounded this issue in the six principles of the Women's Manifesto and we here publish texts written, for example: by women who have been forced to flee their home countries due to the topics that they write about; women who have found their own ways of reaching out with published works and texts when those in power have wanted to silence them; and by women who are breaking the norms and who write about taboo issues.
The interview with the Iranian writer Ramesh Safavi starts with the words: "If Ramesh Safavi had stayed in her country Iran she had probably never made her debut as a writer. She has written her three novels in Sweden where she has been free to do so." The Palestinian poet Doaa Abou Shaghibeh describes how she once took part in a poetry competition and the jury told her that her poetry goes too far in its exploration of sex and nihilism. Jennifer Clement writes about how and why the PEN International Women's Manifesto came into being. And, the Iranian writer and publisher Freshteh Ahmadi takes us on a journey through literary history and shows us how "muteness" is a keyword in order to understand the narratives of women in our time.
We here present eleven texts from different parts of the world that all express the same longing and wish for a room of one's own where one can be free to write and to write freely. As it is phrased in the PEN International Women's Manifesto: "For women to have free speech, the right to read, the right to write, they need to have the right to roam physically, socially and intellectually." With this issue of PEN/Opp we hope to be a breathing space for some of these women and hopefully we may continue to be so in PEN/Opp in future.