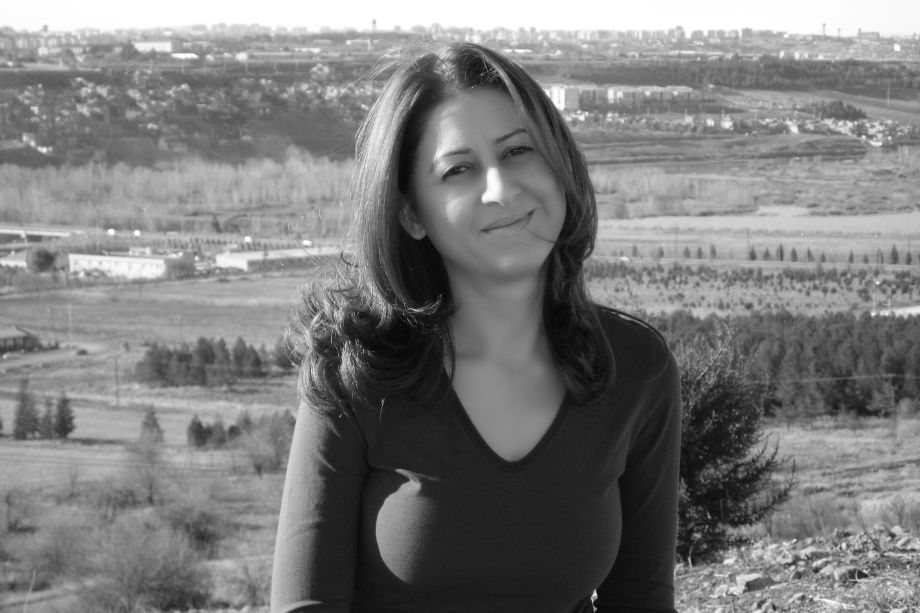 Mother's Dress
Lorîn S. Dogan was born in 1975 in Nusaybin, in the province of Mardin. She is an educated biologist. She has published three collections of short stories so far. She lives in Diyarbakir.
For one hundred and thirty days we, me and my fatherless children, have been closing ourselves up. But not even that is enough to stop the fear that has penetrated the old walls. Every time we hear gunshots, terrified we lean in front of the boulders of the room. The walls have become hollow, which makes it possible for us to stay in the house. I tell a story to my fatherless children. My children sometimes remind me and say:
"Mother, how many times have you told us this story already!"
My children do not complain about the bread I give them, only once a day, and they do not even say they are hungry. They do not even ask about their father. They know that all children in this town have lost their fathers! They know why their older sisters and brothers are not at home.
Even if I have never told them anything, I feel that they sometimes close their mouths and ears, whisper and say:
"Our brothers fight against those who want to plunder our town and kill us!"
They do not cry for their fathers and they do not ask about their brothers and sisters! In the deep dawn I see how they stand before me with masses of empty shells in their hands. Before I get angry, they say with a soft voice:
"Mother we swear, we have not been out in the street, we have collected them here in the yard."
Then I hurry outside immediately and walk around the house and look at the heritage from the nightjar, that has been replaced by a brick wall and look for the empty shells and I realise that when the squeaking increases, the town falls apart and the more the town falls apart, the fewer the neighbours get!
I does not matter how many of my neighbours that have left the town, I still do not want to leave my youngsters and my dead ones here and send my children to the unknown land. I have not even been allowed to see my husband's dead body yet! It is said that because of the increase of the numbers of deaths, people have difficulties recognising their dead. It is said that there is no way to wake up the dead, so instead they bury the body of their friend who fell beside them. My children sit around me and I can only tell them my stories, but there is nothing at home for them to eat!
In the night, when I have put them under a blanket, I sit next to them until the morning. I try to find a way to get them some food. When they hear the sound of gunshots in their sleep, they wake up crying and embrace me. In that moment I forget everything and just wish for the walls of the house to grow thicker and stronger.
But food! My attention again turns to food for my children. Every evening the walk around the house to pick empty shells and bullets and every night I walk around the house to find a piece of bread for them and when I do not find anything to eat, I sink into sorrow and forget all of the stories I once knew.
Flour, gunshots and stories fall into each other's traps. Gunshots extinguish flour! The bottom of the empty sack ties my hands and feet, destroys my sleep. Already in the middle of the night, before they leave the house to go pick empty shells, a walk back and forth in the house and look around. Since the war began in the town the whole town has been shut down, no bakery is open and no shop. There are no neighbours either, everyone has left! I remember my close friend Fatima. As far as I know, she has not left yet. But I notice that all four children look at me under the blanket. I look at them with a look of resignation and say:
"I will not be away for long. My beloved children, do not leave the house and do not open the door to anyone until I am back."
"I can see in their eyes that they are afraid I will not return. I sit in front of them, put my hand on their heads, kiss them and say:
"I'm going to my friend Fatima. You know about her house, don't you, it's just around the corner, it's very close. I leave and I will be right back."
The fear in their eyes hurts my heart, crushes my heart. But I have to, before the gunshots get stronger, I must find a piece of bread for them. Before I even have put on my shoes, my son Ari holds on to me. I don't want to make him sad in any way. I take Ari's hand and before I close the door behind me I look at my fatherless children with doubt and fear and say again:
"My dear children, I will soon be back."
Sobbing I leave. I knock at Fatima's door and asks for a little flour to bake bread for my children. Without any questions, my friend Fatima fills a bag and gives it to me. I thank her heartily and walk homewards.
My hand interlaced with Ari's hand, the sound of my breath take over the sound of my footsteps. We have not even reached the top of the street yet, the sound of gunshots takes over all sounds. I sink down at the wall. My eyes are going home, my ears are with the gunshots. Both of my arms around Ali, but I suddenly shake. The flourbag gliding out of my hand, gives me a sigh. Ari's sobbing and crying make my gaze shift from the flourbag that has fallen to the ground.
– "Don't the shots go through the mother's dress? Don't the bullets go through your dress mother?"
I cry now over the children's father and forget about the spilled flour.
I hug my son Ari harder.