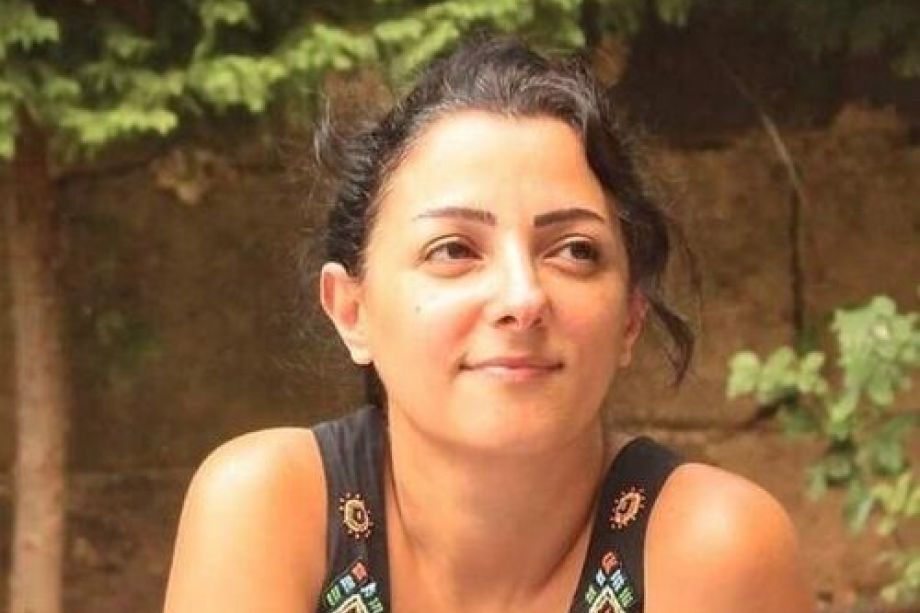 To visit Lebanon after a revolution, explosion and collapse.
Today it is exactly one year since the port explosion in Beirut occurred. Over 200 people died and as many became homeless. PEN/Opp asked Bissane El-Cheikh, a respected Lebanese journalist, to write a personal text depicting her impressions on her return to Lebanon, a country dealing with an escalating crisis after the explosion.
Bissane El-Cheikh, is a Lebanese journalist and writer, based in Istanbul. She worked with the London-based newspaper Al-Hayat between 2001 and 2018, where her main focus was field reporting and investigative journalism both in her home country Lebanon, and across the Middle East.
She is the co-author of the book "Shu'ub al Sha'ab al Lubnani" (The Many Peoples of the Lebanese People), Al Saqi, (2014) along with Hazem Saghieh.
Bissane El-Cheikh wrote and produced two long documentaries "Tariq Al Muhajereen" (Lebanon, 2014) and "Imane and Sanaa, Al Quaeda Twins" (Morocco, 2010).
Since 2020 she is an Executive editor at ARIJ (Arab Reporters for Investigative Journalism).
"Ask there" answered the fisherman. "I'm not from the area; I'm from the camp," he said in a broad Palestinian accent, as he gazed away from me. As he looked away towards the little fishing boats anchored in the shabby port on the outskirts of Nahr al-Bared camp, far north , I was struck by this young man's description of himself as "not from the area" and his feeling that the camp is far away. We were practically at a stone's throw away, and the silhouettes of the camps buildings reflected in the waters of the Mediterranean in front of us.
I walked away towards other fishermen who were fixing their nets and asked if they had any that they did not need anymore and were willing to give me. I was told a fish net was the best solution to catch the snakes in the backyard of our country house, where I've been staying for the past two months since I returned to Lebanon after almost a year and a half.
A fisherman tried to dismiss me by saying no old nets were thrown or sold anymore. He explained that they had become so costly that fishermen would sew and repair them as much as possible to use them until their "last breath." One of them looked at my husband, accompanying me that morning, and gave him a roundup of long deep conversation that never actually happened. "This," he said, "is what your government has brought us."
My husband smiled in confusion and murmured, "My government? I wish what it did would only come to that"." The fisherman realized from my husband's accent that he was Syrian. An awkward moment of silence prevailed, which we broke by rushing our steps towards another group of fishermen hoping to find what we came for.
This morning's incident could have passed unnoticed like dozens of other ones that occurred since I came back home. Yet this one felt so cinematic and contrived, as if it was a dramatic intensification of the misfortunes we were enduring.
A Syrian, a Palestinian, and a Lebanese stuck at a miserable border port, trying to clear dilapidated nets. All of a sudden, I realized that the camp was indeed far, very far. Gaza, which was being bombed then, was even farther. So was Syria, just on the other side of the road pledging allegiance to its dictator in an electoral farce... But let's forget about Syria now.
At this very moment, our dialects and destinies overlapped, as if the three of us, were performers in one of the TV novellas popular in the Arab world these days.
We are now in Lebanon, which will neither feed us fish nor protect us from snakes.
I had left Beirut about five years ago to settle in Istanbul for very personal reasons. I never stopped visiting, and here I am again after the longest absence yet.
A lot of water has gone under the bridge since then.
Drastic changes happened in Lebanon on all levels. One of the most meaningful probably for me is what happened, to the media industry that shaped Lebanon's face and message for decades. Several media outlets, have shut down in recent years. Beirut, known to be a safe haven for Arab writers, journalists, and intellectuals from since the seventies, is withering and has now been relegated to narrow regional/sectarian affairs. It is true that Beirut lately welcomed Syrian writers, intellectuals, journalists, and artists, and to a lesser extent, Iraqis, yet the narrow political prospects and ever tightening margins have hit us all at once. Arrests, security persecution, fabrication of accusations of coercion and treason, and silencing by various means, including assassination (the latest being that of Luqman Salim), have become the standard response of the de facto authority to any opposing opinion or orientation. If I am to consider how this whole backlog has reflected on me, I cannot help but realize that, for the last two years, I have not written or published a single word, apart from social media or some blogging here and there. I felt an intense rage and indignation, there was much that I wanted to say, but I no longer knew how to express myself or where to start. There was a sense of irrelevance that took over me. I even lost faith in whether there was any point in the simple act of writing when chaos prevails, and the entire political horizon is gridlocked.
A question often grips me: What does it mean to write or analyze or investigate a piece of information at a time like ours? It is not despair but rather a question of viability and relevance. This was one of the concerns shared with some friends as we pondered the future of our profession and our country, and reevaluate the prospects of our tools, the way we express ourselves, and this "non-violent" manifestation of political stand.
Paradoxically, Istanbul, for which I had left a couple of years ago, has turned into that haven for dissidents fleeing the brutality of regimes but also "counter-revolutions" of the "Arab Spring". At one point, Istanbul was for me a reflection of the Beirut I loved and missed. Here you could bump into the same people that filled Beirut's sidewalk cafes, exchange some politically heated conversations or intellectually stimulating debate. However, time, politics, and cross-border partisan/religious ties subjugated many people while pushing others to be tamed or migrate towards wider horizons.
It is not easy to return to your country, after a revolution, an explosion, and a collapse in record time. On top of that, a global pandemic that changed the life we knew for years to come. A "tsunami" like year and a half for Lebanon and its people that all other events stand small, fleeting, and transcendable.
The uprising for which our hearts throbbed, against all odds and against our own fears of the frustrations we lived in the past ten years has not left any vestige, not here, at this filthy port and its community of fishmongers' shops and car repair garages, except for some scribbles on walls, smeared with generator grease and fishermen's spit. The fist, the symbol of the revolution, disappeared behind worn advertising and electoral posters. During the uprising, demonstrators raised the slogan in the nearby square, mimicking demonstrators in Beirut. They defied the excessive use of power that doesn't find any shame in shooting live bullets into the chests of people in this area. That era, anyway, seems more immersed in time than it truly is.
Even Beirut, from which I have run to hide here in isolation, Beirut, which I visited only once this time, is no better. What remains of the revolution is no less painful and cruel. Shops and banks in the city center have reinforced iron sheets on their fronts; the traces of bullets are seen on the outskirts of the buildings. Everything here is a constant reminder that some of those bullets landed in the eyes and chests of young men and women demonstrating.
Moreover, the revolution, its slogans, hopes, and frustrations seem so old and worn out now compared to the other colossal mammoth event, the tremendous collective trauma: the explosion that destroyed and shredded more than half of the city. Everyone you meet brings you back to the feeling of stupor at the very moment of the sound of the first blast. By the second, came the shock. Then the understanding, the terror and the rush to check injuries, examine damage, and save what could be saved. The worst of all was that survivors felt they survived by pure luck, which left them hanging between happiness for survival, phobia of death, and guilt. That same guilt that eroded you from within while watching from afar.
Now, you can ruminate your feelings and go ahead whipping yourself, only if you do it silently.
During my quick visit to Beirut, I tried hopelessly to find my old points of reference. By doing so, I sounded like my mother when she would still refer to the "horse shoe" café as an existing place by Hamra Street. She would set a meeting point in that same pre-war university year's favorite café of hers, while I have witnessed it change so many times over the years.
I am her today. I grab myself by the hand and cross the street, looking for all the places that have betrayed me and vanished within a year. Just one year. How could this be possible?
As if the city had become a phantom of itself. Small shops and restaurants, some of which survived the worst days of the civil war, shut their doors for no return. There are reports of doctors deserting hospitals in huge numbers, pharmacies emptied of medicines, and significant shops witnessing essential commodities' ration. Even the post office ran out of stamps. Queues of cars in front of gas stations take you back to a time that you thought would never return. It pains you to hear over and over again that the livelihood was immeasurably better during the war.
The general scene, the looks of passers-by and friend's eyes take me back to the end of the civil war in the early 1990s, when people were trying to restore themselves amongst ruins and rubbles. Dust seemed to be the common denominator and grey is the predominant color. However, back then, there was hope that a better life might lie ahead, that the war is behind us, and that tomorrow would undoubtedly be another day.
...then comes schizophrenia.
The famous Lebanese schizophrenic "love of life" or what they call "resilience". That strange ability to deny reality and move on, or maybe just fall into a bubble and pretend things are okay. This you find in abundance in beach and mountain resorts and small luxury guest houses that have recently flourished outside Beirut and main cities. An oasis catering to a segment of the Lebanese who are still being paid in US dollars, and are "stuck in" due to pandemic related travel restrictions.
In a country like Lebanon, such a contradiction may seem only natural and entrenched. It has formed a turbulent and false societal awareness of the extraordinary capacity for challenge, persistence, and resilience. It sums assertions that nurtures an inflated self-image and deprives people who need help from the opportunity to get it or even ask for it. Resilience is simply a concept that is biased towards strength and power at the expenses of human weakness and pain. The thing, however, is that it showers us with praise and expresses false love for us rather than giving us the chance to mourn and heal.
Yet, to be honest, these same contradictions would have seemed normal to me, too, had I still been living here. I might even have needed it to be able to get up in the morning, go on with my day, and understand what's going on around me. I would have crossed that harbor and the camp adjacent to it without paying much attention. Now, I am trying to overcome my helplessness to digest what is happening around me and many other things that these lines cannot bear.
All I know for now is that I am standing on a wretched dock in the distance, staring at the sea and waiting for a fisherman to give me a net.