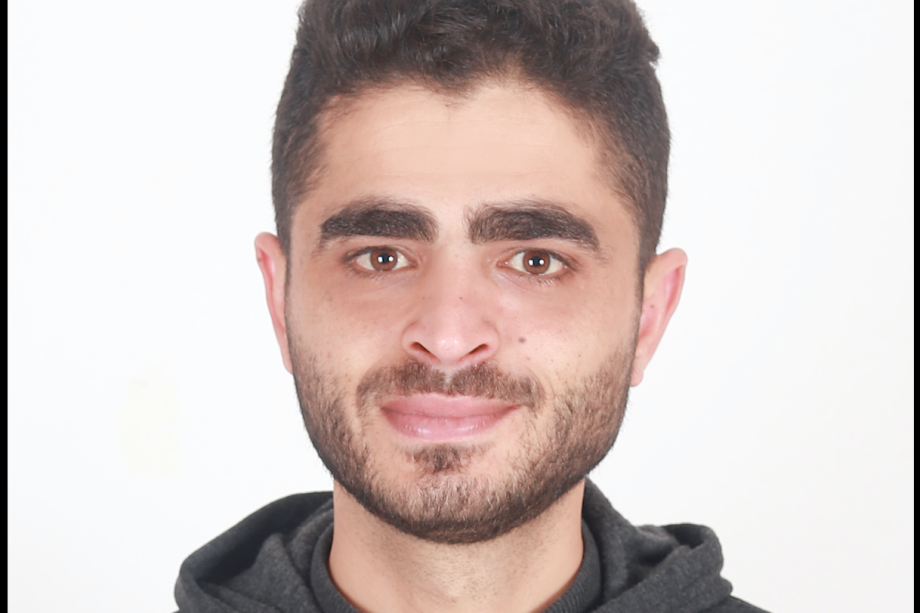 Letters to Oraib
These letters are an attempt to describe everyday life in the Gaza Strip, and it is also an attempt to recover from despair. The letters were written between 2021-2022. From his isolation, the poet Mahmoud Al-Shaer sent letters to his friends who live outside Palestine. These letters are cracks through which the poet tells his story to the world.
Al-Shaer was born in Rafah, southern Palestine, in 1990. He is a writer and a member of the Palestinian Writers Union. He is also the Executive Director of Magazine 28, and the General Coordinator of Dar Khatwa for Publishing and Distribution. He studied Accounting at the University College of Applied Sciences in Gaza. He published a joint poetry collection entitled "White Space", and his texts have been published in a number of Palestinian and Arab platforms.
"I don't know where I am, but I keep running."
Dear Oraib,
As October draws to a close and the year comes to an end, I can't help but feel stiff and stagnant in the face of time.
Despite the passage of days and years, time never stops and the future always holds possibilities, even in times of amputation, destruction, and exclusion. However, the question of ability remains a persistent issue that calls for reflection and research.
Back in 2018, I told myself that the unknown is full of opportunities, even in the midst of crisis and loss. I resolved to keep running, even if I didn't know where I was going. And when the unknown presented me with opportunities, I felt as if life was a wave rising high, then crashing down, leaving me with nothing.
Now, in October 2022, I find myself renaming things, circumventing language and circumstances, trying to receive life as if it were free from siege, imprisonment, corruption, and crises. I am trying to approach tomorrow with hope and a belief in the future, but my experience with life here leaves me terrified for my children (Nay and Majd). While I am overjoyed by their existence, I am haunted by the fear of destruction, both past and present.
These feelings are incredibly stressful and exhausting to live with, but I remain hopeful and committed to running towards the unknown.
With love,
Mahmoud
---
"I live in a present that I did not choose."
Dear Oraib,
In your opinion, how many rock bottoms does one have to hit before he can call one the last rock bottom…?
Do you have time to talk? Would Friday work...?
I am in Gaza, looking at my grave and worrying about nothing, because I live in a present that I did not choose. And my choice has become a distant dream.
My love,
Mahmoud
---
"As if I were an era."
Dear Oraib,
I find myself waiting for your response day after day. How are you? How does the pain of our first crisis, the loss and departure, feel to you?
Time has passed and moments of solidarity inspire me. It's a force that only emerges in times of crisis. The ongoing crisis and amputation, which is an extension of all the killing, displacement, siege, and theft of time and space from Palestinians, no matter where they are located, is stripping away my sense of persecution. The pain of what happened is no longer as acute, but sometimes I still cry, or I feel inexplicably numb. I pity my friends who follow the news and all the boot-licking of this world. So, I try to seize life moments day after day, as if it were yesterday that I finished Iman Mersal's novel. Can you believe tomorrow is the end of May?
The question of the future is always at the forefront of my mind. My obsession with it has led me to question things beyond time and space. When I looked into the past, I saw us constantly moving from one occupation to another, as if we have lived through many eras. Some events pass me by as if I myself were an era. I recount my life as if it consisted of many eras. Time is speeding up on me, Areeb. I don't feel safe, but I feel strong, willful, patient, hopeful, and in solidarity, as if I were a body facing fire.
I'll be sending my next message from Berlin. See you soon.
With love and longing,
Mahmoud
---
A new partner to imagine the future with
Dear Oraib,
I have finally connected with my father, Maher, through an oral history that provides me with eternal love. All the little details and astonishments that I have learned later on were always a part of me. I now understand why my father and mother wanted another child.
On April 24, 1990, I became my father's new partner to imagine a future with. He imagined me growing up and talking to him, just like I imagine the future with my children. He was building a home, renting a place and working as a truck driver from Gaza to the occupied areas, leaving every Saturday morning and returning Thursday evening. Suddenly, we received news that he was martyred at the age of 30, leaving behind his wife and two children. Everything came to an end.
Since April 11th, I have been contemplating my connection with my children. I wonder if my father had visions for our life together like I do now. And here I am now, giving him everything he couldn't have with the birth of my own children. I believe he has heard all of my linguistic vocabulary, and this belief is as strong as the love he gave me as I grew older in his hands, day after day until he was martyred.
This experience is not normal, and I feel sad that I can only recount the details of my father's life through oral history. I incorporate other people's parts, which creates a strange and mixed-up path, but I am still in a state of celebration that I know all of these details. My happiness at each interaction with my children is doubled. Firstly, there is my natural happiness as a father watching his children grow up, but then also my happiness knowing that my father experienced this feeling too.
Thinking of my father's presence made me question many things, including the dreams and aspirations that were erased by an Israeli soldier at the borders of Gaza Strip on Tuesday, October 23, 1990. I am living those dreams now.
See you soon in Berlin.
With love,
Mahmoud
---
The Door
Dear Oraib,
I'm sorry, I only saw your message late on Wednesday. I just heard it now, and I'm fine now. I always find a way to be fine. I wrote this text about loss, rejection, and breakdown:
I walk with my friends until we reach the door. They are allowed to leave, but I return, rejected, and alone, surrounded by many strangers.
Friends leave, and I get their messages, full of pictures. I watch their amazement at things, and I appear to others as though I was the one taking all the pictures of them.
Friends leave, and I remain with nothing but fear, doubt, and the inability to imagine a future, as possible dates dive into the unknown.
My friends leave, and I remain open to many possibilities. Just like them, I'm surrounded by strangers, except I am inside Gaza, and they aren't.
My love,
Mahmoud
---
Silent for a long time
Dear Oraib,
Yesterday I was trying to travel to Egypt to participate in the forum that I referred to in my previous post. I am writing this letter from Gaza after the Egyptian side refused me entry because of a valid European visa. I do not want to talk about anything, I want to remain silent for a long time, and replan the 13 days that I was supposed to spend in Egypt with the usual things I do here.
For a moment I felt that time had stopped, and that someone had robbed me of the ability to do anything, or had pulled my spine out, leaving me with a void in which resistance would not work. I have been silent since that moment. But I am recovering little by little from the impact of this shock.
Every time I collide with the regime, I am surprised by an inner voice that rises and dominates. It is a voice that refuses to stay here, a voice that always repeats "run away", get out and don't come back, endure the years of emigration if the years of survival depend on rejection and destruction, and are always on the verge of disappearance.
This voice, Areeb, melts when I think about the importance of cultural work and the need for its continuity within Palestinian society. All the pain of clashing with the regime melts in front of the pleasure of seeing The Gallery, an almost self-organizing space for a wide community of young artists, writers, and creatives of both sexes.
The future seems like a dark space, and I have no guarantees that this act of building that began in 2020, and whose roots have been trying to survive since 2013, will continue. I don't want anything from tomorrow except to give me the normal opportunity given to any human being on the planet; to have a life that's free of these problems I am dealing with now.
I will write to you about hope soon, on April 11, when my children turn six months old. It's amazing what I have learned from my children. I am very happy, Areeb, that my father heard my voice, and I feel very happy with every interaction with the children. This is absolute joy that cannot be overtaken by any sadness mentioned above.
I hope you are well and to hear from you soon.
Mahmoud
---
Words dry up as I try to explain more
Dear Oraib,
How are you? It's strange how quickly time passes. It's been five weeks since my last letter, and I feel like I've left you with no shared scenes this whole time. I am still contemplating my migration inside the place, I return alone and silent and unable to approach others.
I contemplate in this loneliness and this silence my way of compensating for the losses. I am not saying that I lost my friends, but I lost their physical presence. I imagine, Areeb, that from the beginning I do nothing but compensate for my losses that I did not choose. The flow of words stops as I try to explain more, but
---
Dear Oraib,
Spaces are expanding little by little, and experiences overlap only once they are shared. I'm trying to learn life again with the children. I carry one of them, for example, because they are crying, then I see them leading me to what they want, and I accept with complete openness that I am their tool to reach. They raise their head and catch me. Their smile emerges like the wings of butterflies, like the cold water of a body crucified under the sun.
Nothing new has happened with travel. This year I tried to travel on the 16th and 20th of March, and then again on the 3rd of July, the 25th of August, and 4th of September. All five times I spent 10 to 13 hours at the border, from one terminal to another. Time devours about 900 people every day, except for Friday and Saturday. At nine or ten o'clock, my name is announced on the list of returnees to Gaza.
I return defeated, thinking about traveling, again and again; the agreements, hugs, farewells, and procedures that are repeated time after time, and my face that has become known to all the staff working in and around the crossing– not only the officers on both sides, but the coffee seller, the currency exchange teller, the baggage carriers, the cleaning staff, even the children who sell ice water around the cars leaving in both ways.
I could easily recover the first few times. But time after time I began to hate the act of recovery and its practices, and I became ashamed of all the cancellations I had to make with the other side. This, in addition to the high economic cost, has made me feel as though I've lost my place, and no longer know if I'm here or there. I've become a stranger to everything outside of my home.
At home, the children are growing up, and learning to speak and talk. I am like a language explorer, observing how they perceive and store language, and their ability to move their body. Every day something new, amazing, joyful and full of life is added.
My love, and great wishes to see you soon,
Mahmoud